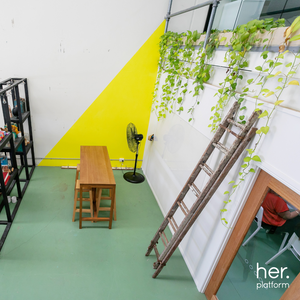 HOW TO BOOK
1. Please email hello@herplatform.com.au to check availability for your space.

2. Once confirmed, the team will send you the steps to book online.
This is our designated ''Get shit done'' planning space, complete with bar height table and large Perspex writing board to help visualise your world takeover. Suitable for a solo hustle or quiet strategy hustle between focused sisters. A maximum of 4 people can safely work in this space and adhere to the social distancing measures.
We currently don't have air conditioning in this space but you are welcome to use the pedestal fans provided.
 $25 for full day hire (weekdays only).