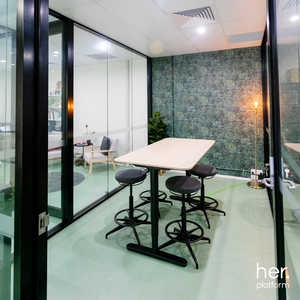 HOW TO BOOK
1. Please email hello@herplatform.com.au to check availability for your space.

2. Once confirmed, the team will send you the steps to book online.
Collaborate in private in our cosy, air conditioned Jungle, located on the second level, surrounded by glass and tonnes of natural light. This space is designed for that smaller hustle with a little more privacy than the open plan below. Adjustable working table and chairs, with a soothing backdrop of dark, dreamy Jungle wallpaper.
4 people can safely hustle in here together under the current social distancing measures.
$25 per hour.