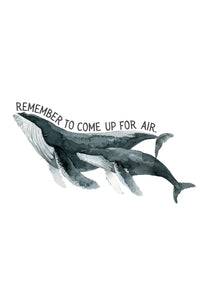 National Child Protection Week 2023 - "Where we start matters"
'Come up for air' Sticker 
For the 2023 NCPW The Centre for Women & Co's. Children & Youth Counselling Team came together to produce three A3 posters and one sticker design. 
These designs have been created to be displayed in your home or in a practitioner's office. With key messaging and quotes our team use on a daily basis with our clients and our beautiful child & youth branding, these calming posters can be displayed anywhere. 
This sticker includes the quote "Remember to come up for air" and the beautiful image of the mother whale & her calf. This sticker can be placed on water bottles & lunchboxes, fridges, laptops etc. as it is waterproof. 
Please note: We have a 5-10 business day turnaround timeframe. This is due to our team working across multiple projects for The Centre for Women & Co. while processing Her Platform orders. We will process your order as soon as we can <3