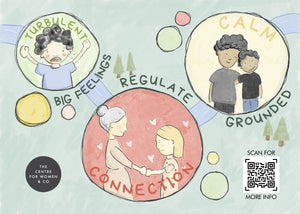 Every child, in every community, deserves a fair go.
To celebrate & support Child Protection Week, our team has created a 'Co-regulation Fridge Magnet'.

We work with children and families who have or are experiencing domestic & family violence. We also see parents doing everything in their power to create a safe environment for their children when someone chooses to use violence or abuse in their home. We have created this fridge magnet to help parents and caregivers foster safe spaces for their children even when life may be turbulent and difficult.
When you scan the QR code, a supporting resource document with in-depth information will open on your device.